كنديات
SAKHER SABEEL ARABIC NEWSPAPER
The interview with Miss. Beisan Zoubi, the candidate for the Canadian federal elections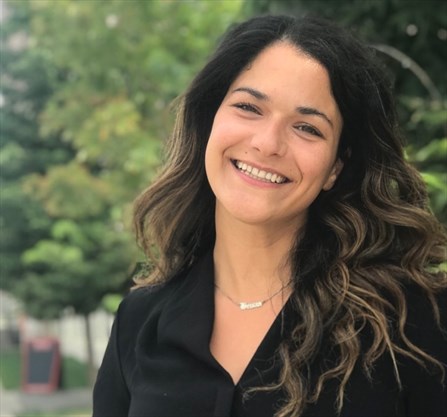 SAKHER SABEEL ARABIC NEWSPAPER
Interview number: 108
The interview in this issue is with Miss. Beisan Zoubi, the candidate for the Canadian federal elections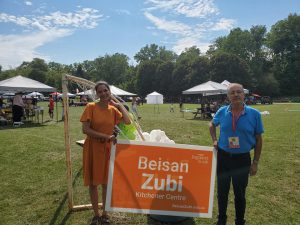 ***
Introduction
Beisan Zoubi, is the guest of this issue in Sakher Sabeel monthly issue 108
She is a Canadian woman of Palestinian Arab origin and a candidate for the NDP for Kitchener Centre, Ontario region and has been residing in Kitchener, Ontario for several years. She holds two university degrees and, speaks three languages and has important skills. As the federal elections are close by, we hosted her in our newspaper.
Q1: We mentioned in the introduction some information about you. Is there anything that we do not know, and you would like to add, especially your period of work with the late historical leader of your party, Jack Layton?
A1: worked with Jack for 7 months during the 2011 Elections when he became the leader of the opposition. I worked in Parliament for three years. I worked a lot on indigenous issues and now I am a consultant around issues of equity, social responsibility and. Work with non-profit and small tech companies in Waterloo region..
Q 2: Is it possible to give the honorable readers an overview of the Canadian federal elections map and the importance of participation by all Canadians?
A : Our next Federal elections are being held on Sept 20th. There are 338 ridings in Canada I am running in Kitchener center. The liberals have a minority Government which means they had to work with other parties to pass bills. Throughout the pandemic the NDP forced the liberals to improve their policies. For example, the liberals thought that a thousand dollars was enough for the Canadian Emergency Relief Benefit (CERB), but the NDP made them double it for Canadians in need. Moreover, the reason why the liberals pushed an election right now is so they can get a majority, so they don't have to be accountable to anybody. We need to stop that. I will be bad for Canada if Trudeau gains a majority government.
Q 3: Frankly, the polls say that your party's chances of winning this time are weak. But I think the candidate should work with full energy to win and reach the Parliament.. What has the campaign done to achieve this goal?
A. 3: first of all, if you look at the polls, Jagmeet sing has been the most popular federal leader of any party. Secondly, the NDP is polling 10% higher since June 2021 in Southwestern Ontario, where Kitchener center is. Finally, if we only listen to this kind of information, nothing will ever change, the same people will stay in power. We listen to our community; We have been knocking on doors, listening, and learning from our community and speaking with them. Our community needs change, and we promise to bring this change.
Q4: Were you able to reach out to Canadians of Arabic origin for support?
A. Yes, I have been honored by all the support I have been offered by the Arab community, but there is always more I can do to meet more of you. So, please be in contact. And here I am reaching out to the Arab community through your paper.
Q 5: There is an electoral tactic summed up in "Do not divide the votes to reach your goal" meaning to unify all under the "Liberal" banner to prevent another party from reaching to power. What do you think of that?
An. 5: Vote with your heart and not what people tell you. This is the Reason why things never Change. The powers that be wants you to think you cannot change your situation and cannot change your country. Quite to the contrary, I believe we can. We must vote for what we want and not against what we don't. If we want to move away from Racist, Islamophobic and Colonialist government, we must vote for something better. I, along with my party stand for these changes.
Q6: How can you convince the voter of your constituency to vote for you?
An. 6: One, by listening to their concerns and their needs; 2) By understanding the system's failures, and third, by changing the system to respect their rights and needs.
Q 7: What do you request from the Arab and Palestinian community before the elections?
A. 7:I want Arab Canadians to push the candidates to say what their party is doing about Indigenous people, Islamophobia, Anti-Arab Racism and, especially about anti-Palestinian racism.
Q8: If you won the elections and were able to sit on one of the federal seats, what is the first thing you would do?
A. 8: I will reach out to the Arab and Palestinian community and as their representative I will be listening to them and address their needs.
Q9: What is your advice to Arab Canadian youth, especially in engaging in public work, specifically in the political aspects?
A. 9: Most importantly, you need to know that you are needed: Canadian politics need Arab Canadian Youth. Whatever your skills are, learn how to share them in politics. Every skill can be a tool for change.
Q10: A final word to the readers of the Sakher Sabeel newspaper and the Canada Sabeel website.
A.10: Thank you for reading Sakher Sabeel and for your interest in this interview. If you know people in Kitchener let them know that someone new who understands them is trying to represent them; if you want to find out more about me and my campaign, please go to my website: https://www.beisanzubi.ca/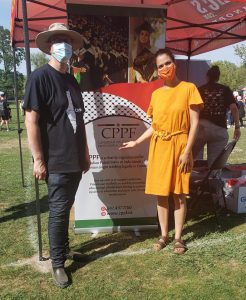 ***
Conclusion:
At the end of this interview, on behalf of our valued readers, we thank M iss Zoabi for taking the time from her busy schedule to answer our questions.
This is an appeal from us to the residents of her electoral district (center of Kitchener) to vote for her so that we can see an Arab-Canadian woman in the Canadian Parliament carrying our concerns and aspirations for a Canadian society crowned with love, peace and justice.